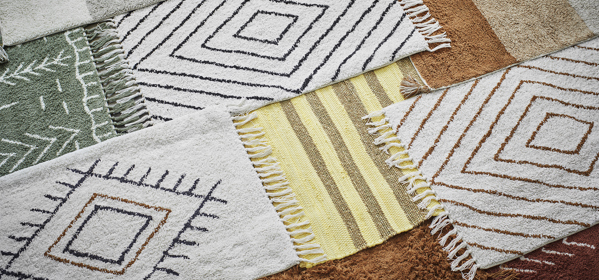 Please read through these terms and conditions carefully before placing your order. By using this website and/or placing an order you agree to be bound by the terms and conditions set out below. We may change these terms from time to time without notice to you. Changes will apply to any subsequent orders received. Once your order has entered our dispatching process, we will not be able to make any changes.
Every care has been taken in the preparation of the content of this website, in particular to ensure that the details, descriptions and prices quoted are correct at the time of publishing. The total cost of your order is the price of the products ordered and delivery charges as set out in the delivery options section of this website. While the colour reproduction, on this website, is a close representation, every piece is individual and variations in actual goods may occur.  
All orders are dealt with on an individual basis.
The delivered products shall remain the property of Madam Stoltz ApS until full and final payment.
Prices are without VAT.
Terms of payment: 50% prepayment at first order.
Terms of delivery: ex warehouse (DK-Bornholm).
Order is subject to final confirmation.
We reserve the right to forward claims to Debt Collection if the terms of claim are breached. 
When you are approved as a business customer, you automatically approve to receive our newsletter.
A NOTE ON HANDMADE PRODUCTS 
Madam Stoltz products are made by people and not machines. Small imperfections or differences in shape, size and colour may occur and are part of the charm of a handmade product. This part of the handmade process is what makes our products unique and should not be seen as a fault. This will never affect the overall aesthetic of the product and its ability for use as intended. The majority of our items are handmade and while the colour reproduction, in our printed and electronical media, is a close representation, every piece is individual and variations in actual goods may occur. We cannot accept any responsibility for these variations. 

Our fabrics are made from natural material and might have natural characteristics such as slubs and other irregularities in the yarns which are not weaving faults and therefore not considered faults by us as a company. All of our pottery is dishwasher and microwave safe, however for larger pieces of pottery we recommend washing by hand.

Our furniture has been handcrafted by skilled cabinet makers in a durable hardwood to produce a distinctive design that will bring pleasure for years to come. Features of Natural Wood - Wood is a beautiful natural material. It is important to understand its unique properties which may include slightly different grain patterns, variation in colour, knots, and joint lines, which add to the character of antiqued and rustic finish furniture. Expansion - All timber will display movement from season to season because of changes in atmospheric temperature and humidity.
Care - Please take care when moving furniture as dragging pieces across the floor will cause damage to the joints. Take care to prevent sharp objects such as toys, buckles and heels from coming in to contact with your furniture. Wooden and delicate flooring should be protected from possible marking by feet or legs.  
Lighting - All Lamps are CE approved and suitable for 220-240 volt. Selected lamps are fitted with a 2 pin Euro plug and are for indoor use only. 
OWNERSHIP OF RIGHTS
All rights, including copyright, in this website are owned by or licensed to Madam Stoltz ApS. Commercial use is restricted to our business customers and selected press. All others may not modify, delete, distribute or post anything on this website for any purpose.